On This Date In Music – "Spirit In The Sky" by Norman Greenbaum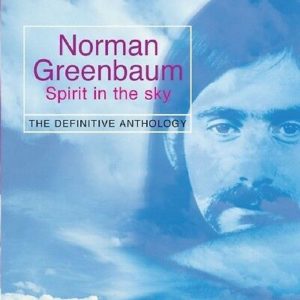 April 20 – On this date in 1970, Norman Greenbaum's "Spirit In The Sky" was sitting at its peak position, #3 on the pop chart, blocked from reaching #1 by the Beatles' "Let It Be" and Jackson 5's "ABC."  The song has become an iconic example of rock meeting gospel and lifts most people up when they hear it, no matter what their religious upbringing may have been, or their current position on faith.  Which makes sense since one of the most famous examples of Jesus being name-checked in a rock song came from a good Jewish boy.
Norman Greenbaum was raised in an Orthodox Jewish household and attended Hebrew school.  Even into his adulthood he never changed his faith and identifies as Jewish.  He loved folk music and the blues and by the time he was a student at Boston University he was playing in local coffee houses.  In the mid-sixties, he formed a "psychedelic jug band" named Dr. West's Medicine Show and Junk Band that actually charted with a novelty song called "The Eggplant That Ate Chicago."  Amazingly that was their only hit and they soon disbanded.
While nurturing a solo career in San Francisco, Greenbaum saw a television show with country singers Dolly Parton and Porter Wagoner singing a religious song.  Greenbaum challenged himself to write a religious song.  The first thing he decided to do was include Jesus because he knew it would give the song a bigger audience.  He then came up with the title "Spirit In The Sky," channeling the Westerns he watched as a kid.  While the lyrics came to him quickly and easily, almost as if divinely inspired, the music took months because he kept changing it.  Once he was happy with the melody, which he based on an old standard blues riff, he added a unique electronic fuzz-tone opening riff.  Then guitarist Russell DaShiell jokingly came up with spacey beep-like guitar fills between verses, which the producer liked and included.  The Oakland-based Stovall Sisters were brought in to add backing vocals that, along with hand claps, gave the song a decidedly gospel feel and "Spirit In The Sky" was ready to soar!
Greenbaum gets some criticism for the third verse which begins "Never been a sinner.  I never sinned," from Catholics, who believe in original sin in which everybody is born a sinner.  He admits "I flubbed that part."  But if you can get past that "flub," "Spirit In The Sky" is a transcendent song, which Greenbaum says "appeals to one's inner self and the need for redemption."  (Reprinted and edited with permission from Michael Walter author of "On This Date In Music").  To learn about other dates in music history, get Michael's book at OnThisDateInMusic.com. #OnThisDateInMusic #MichaelWalter