On This Date In Music – "Nothing Compares 2 U" by Sinead O'Connor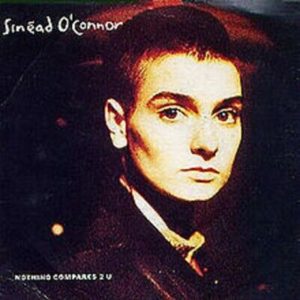 May 11 – On this date in 1990, Sinead O'Connor was wrapping up her four week residence at #1 on the Billboard Hot 100 chart with her cover of "Nothing Compares 2 U."  The song is by far her most successful single, in fact it's her only Top 40 hit and her career would quickly unravel after this.  But before that, "Nothing Compares 2 U" introduced O'Connor to an international audience that fell in love with her voice before they became aghast at her social views.
Prince originally wrote the song "Nothing Compares 2 U" for one of his protégé bands, the Family.  He had overheard a member of the band talking about a bad breakup and he penned the song, exploring the feelings of longing and despair for a lost lover.  The song appeared on the Family's 1985 debut album but was never released as a single.  After Sinead O'Connor's debut album The Lion and the Cobra became an underground hit she began collecting material for her follow-up.  Her manager recommended that she cover "Nothing Compares 2 U" and when Prince gave his blessing, O'Connor recorded it for her next LP, I Do Not Want What I Haven't Got.  There is no doubt when you listen to O'Connor's version, especially compared to the original, that she tapped into the raw emotion of unrequited love that Prince had written about, specifically her delivery of the line, "I could put my arms around every boy I see, but they'd only remind me of you" and of course her soaring vocals in the chorus at the end.
Sinead O'Connor received four Grammy nominations although in a bizarre move, and a precursor of things to come, she said that she was rejecting the nominations (whatever that means) and she did not show up at the ceremony (where she won one Grammy, that for the Best Alternative Performance).  After more bizarre moves, her main, career-ending moment came when she tore up a picture of the Pope in 1992 on Saturday Night Live.  That combined with a series of releases that have been as far from main stream as seemingly possible have thrust O'Connor to the very edges of relevancy.
Still, it's worth remembering the winter and spring of 1990 when her face, that dramatic, striking face, was literally plastered all over MTV and broadcast into millions of homes.  She struck a nerve with a song about loss and longing.  She took painful lyrics written by Prince, poured even more anguish into them with her ethereal singing, and created a song that still touches the soul of anyone who's ever mourned a lover.  View the official music video here
(Reprinted and edited with permission from Michael Walter author of "On This Date In Music").  For further insight on Sinead O'Connor, the making of her stunning music video, and on other dates in music history, get Michael's book at OnThisDateInMusic.com. #OnThisDateInMusic #MichaelWalter