On This Date In Music – the origins of "Ohio" by Crosby, Stills, Nash, & Young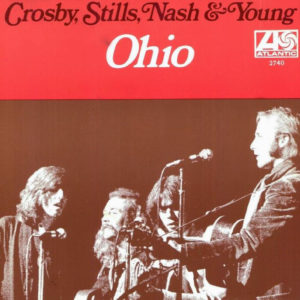 May 4 – On this date in 1970, members of the Ohio National Guard, which had been deployed to disperse an on-campus protest at Kent State, began firing into a crowd of unarmed students.  Four young people were killed and nine were wounded.  The incident, sometimes referred to as the Kent State Massacre, would not only inspire one of the great anti-war songs of all time, it would have a profound effect on the students at Kent State, some of whom would go on to become prominent musicians. 
Kent State, like so many universities in the late sixties, was a hot bed for protests against the Vietnam War.  Demonstrations were sparked after the April 30th, 1970 Cambodian Invasion.  Throughout the following weekend, students at Kent State became more and more vocal and even violent, with rocks and bottles being thrown at police.  On May 4th, about 2,000 students arrived to continue voicing their discontent.  Very quickly tension between the protestors and the Ohio National Guard reached a boiling point.  The guardsmen's first attempt at dispersing the crowd was tear gas, but wind made that ineffective.  This only seemed to embolden the protestors who chanted, "Pigs off campus," and hurled rocks towards the troops, who slowly began to retreat.  Then, without an order being heard, one guardsmen fired his pistol into the crowd.  Another guardsmen followed, and then more.  Within moments, 67 shots had been fired at the protestors who were now, literally, running for their lives.  Nine students were injured and four were dead.
Neil young heard the news from Kent State and was moved by the senseless violence.  He took a walk and composed lyrics for a song he'd call "Ohio" before he was back home.  His lyrics directly reference the incident, mentioning "Tin soldiers and Nixon coming" and "Four dead in Ohio."  He confronts the listener head-on by asking, "What if you knew her and found her dead on the ground?"  Young then had bandmates in Crosby, Stills, Nash & Young record the song and it was released just weeks after the incident.
"Ohio" is just one of the songs (albeit the most famous) written about the incident.  Steve Miller wrote a song called "Jackson-Kent Blues" and the Beach Boys wrote and released "Student Demonstration Time" a year after the shootings.  Also, a virtually then-unknown Bruce Springsteen wrote a song called "Where Was Jesus in Ohio," which remains unreleased.
Meanwhile the surviving students at Kent State were understandably moved.  Many would eventually become musicians and look back at this day in 1970 as a turning point in their lives.  Christine Ellen Hynde was one, who would eventually climb to international fame as Chrissie Hynde, lead singer of the Pretenders.  Joe Walsh was another.  He would later say, "being at the shootings really affected me profoundly.  I decided that maybe I don't need a degree that bad."  Mark Mothersbaugh and Jerry Casale were also on campus that day.  After the shootings, Mothersbaugh heard the song "Ohio" and it showed him how powerfully and instantly music can comment on social events.  He and Casale started thinking of the concept of de-evolution" (meaning the human race was regressing and becoming dysfunctional), and they eventually formed the post-punk band Devo, which channeled the emotions from "the depths of the horrors, lies, and the evil" that Mothersbaugh had seen after the incident into Devo's dark humor.  (Reprinted and edited with permission from Michael Walter author of "On This Date In Music").  For further insight on this and other dates in music history, get Michael's book at OnThisDateInMusic.com. #OnThisDateInMusic #MichaelWalter