On This Date In Music – Bryan Adams' "Heaven"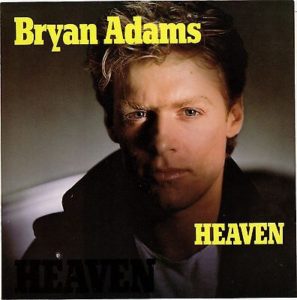 June 15 – On this date in 1985, Bryan Adams' power ballad "Heaven" became his first #1 single knocking the Tears for Fear song "Everybody Wants to Rule the World" out of the top spot on the Billboard chart.  It would be replaced two weeks later by Phil Collins' "Sussudio."  The song was written for a movie that turned out to be a complete flop, but it happened to include two songs that would go on to be huge hits.
Bryan Guy Adams was born in Ontario, Canada in the final year of the fifties.  By his teens he was playing in bands as well as working in local studios.  In 1978 he met drummer and songwriter Jim Vallance and the two began a collaboration partnership that has lasted through the decades.  Their early demos helped Adams land a deal with A&M Records for a reported one dollar.  His self-titled debut was released just as the eighties got started.  Though it wasn't a blockbuster it certainly made A&M their dollar back and they green-lit a follow-up which helped establish Adams as an artist to watch.  His third LP, 1983s Cuts Like a Knife, proved to be Adams' breakthrough, producing three Top 40 hits:  The title track, "Straight from the Heart," and "This Time."
As his star was on the rise, Adams was approached by the filmmakers of a movie called A Night in Heaven about a female teacher who falls in love with a male stripper.  They were asked to contribute to a ballad and they came up with the song "Heaven."  Adams was opening for Journey on their Frontiers' tour and he and Vallance readily admit the song was inspired by, and even modeled after, Journey's "Faithfully."  In fact, when they were recording the song and their session drummer had to leave the studio before it was completed, Adams persuaded Journey's drummer Steve Smith to help finish "Heaven."  When A Night in Heaven was released it was panned and became a flop, not even earning back its $6 million budget.  "Heaven" appeared on the movie's soundtrack in 1984 along with the original version of the song "Obsession" (performed by its co-writers, Holly Knight and Michael Des Barres).  "Obsession" would be re-recorded and released as a single by the band Animotion and become a Top 10 hit.
Later that year, Adams found himself working on his fourth studio album, Reckless, and he considered including "Heaven" but initially felt it didn't live up to the quality of the rest of the album.  But at the last minute Adams changed his mind and "Heaven" was added to Reckless' tracklist.
Reckless went on to sell 12 million copies worldwide, becoming the most successful album of Adam's career.  After releasing "Run to You", "Kids Wanna Rock" and "Somebody," Adams decided the power ballad deserved to be released as a single.  When it started climbing the charts, the song proved to be a contender.  It hit #1 on this date in 1985, becoming Adams' first career #1.  While no one but the cast and crew remembers the movie A Night In Heaven (and even they would probably rather forget it), the ballad Adams and Vallance contributed has gone on to be a great example of power balladry in the eighties.  To watch the music video click here
(Reprinted and edited with permission from Michael Walter author of "On This Date In Music").  For further insight on Bryan Adams and other dates in music history, get Michael's book at OnThisDateInMusic.com. #OnThisDateInMusic #MichaelWalter