On This Date In Music – "Dancing in the Streets" by David Bowie & Mick Jagger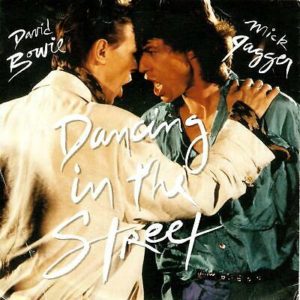 June 29 – On this date in 1985, David Bowie and Mick Jagger recorded "Dancing in the Streets" for the upcoming Live Aid event which was just 2 weeks away.  The song would go on to incredible success and earn millions for charity, yet to this day, the video is still the subject of ridicule.  And rightfully so.  It's one of the cheesiest examples of a mid-eighties music video … and that's saying a lot.
Bob Geldof, who had organized the Band Aid "Do They Know It's Christmas?" single to raise money for the Ethiopian famine victims, put together Live Aid to support the same cause.  The event was promoted as a "global jukebox" with concerts schedule in two different locations:  Wembley Stadium in London and JFK Stadium in Philadelphia.  One of Geldof's big ideas for the concert was that David Bowie and Mick Jagger would sing a song together, while one was in London and the other Philadelphia.  Once everyone involved realized that the delay in the satellite feed would make that virtually impossible, the plan was altered.  It was decided they'd record a song in advance, shoot a video, and have that shown at each concert.
Bowie was working at Abbey Road studio on this day in 1985, recording the song "Absolute Beginners" for a movie with the same name.  Jagger came down and they worked with Bowie's band on the song.  They banged out "Dancing in the Streets" in just two takes then headed straight to London docklands to film the song's video.  Both singers were told to dance around and lip-sync to the song.  Before long, it became obvious that they were each trying to one-up the other in terms of showmanship.  Bowie's drummer, Neil Conti places the blame on Jagger, saying "It was a huge ego trip for Mick, he kept trying to upstage David."  The result is semi-hilarious, as two of the biggest names in music prance, jump, skip, and sashay through the three minute clip.
The video for "Dancing in the Streets" was first shown at the Live Aid concerts and then the single was released just weeks later.  With plenty of promotion on MTV (for which no video was too cheesy) the song climbed the charts, peaking at #7 in the U.S. and going to #1 in the U.K.  Like Band Aid and Live Aid, it helped raise millions for charity, so it's hard to knock the effort of David Bowie or Mick Jagger.  But try and watch the video with a straight face and you'll see why so many place this clip at the top of any list of embarrassing music videos.
To watch the video, click here
(Reprinted and edited with permission from Michael Walter author of "On This Date In Music").  For further insight into the song "Dancing in the Streets" and on other dates in music history, get Michael's book at OnThisDateInMusic.com. #OnThisDateInMusic #MichaelWalter