On This Date In Music – "Mony Mony" by Tommy James & The Shondells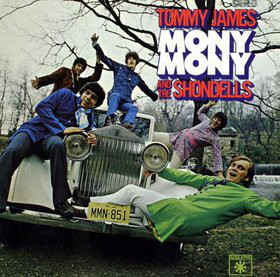 June 15 – On this date in 1968, Tommy James and the Shondells' "Mony Mony" reached its peak position, #3 on the Billboard Hot 100 chart.  It was a party song that James had specifically set out to write as a "throwback" but then nearly gave up on the idea when he couldn't find the right female name to use in the chorus.  Then James received what he felt was almost divine intervention and was able to complete the song, thus adding to the great playlist of party staples.
Thomas Gregory Jackson was born in Dayton, Ohio in 1947.  He was a child model but once he started playing guitar he turned his attention to music.  He formed his first band, the Tornadoes, when he was twelve.  He soon started using the stage name Tommy James and changed the band name to the Shondells.  Their first single, "Hanky Panky" went to #1 in 1966.  James was still a teenager and he was already a rock star.  The following year he reached #4 with "I Think We're Alone Now."  During a time when most of the headlines in music had to do with the great bands coming over from England as part of the British Invasion, Tommy James was one of the few American rock stars making hits.
James decided he wanted to write and record a song that was a throwback to some of the party tunes of the previous years.  He saw that the mood in music was changing with the psychedelic era and rock and roll was starting to become more serious, even calling itself simply rock.  He cites 1957's "Bony Moronie" and 1964's "Hang on Sloopy" as inspirations, so he and the band sat down to come up with something similar.  Something fun and nonsensical that didn't necessarily need to change the world or blow anyone's mind.
The first thing they did was create the backing track.  After giving it a go, they weren't happy with the drums but they did like one section, two bars to be exact so, according to Kenny Laguna, who played keyboards on the track, "before there were loops or anything else, we copied the two bars of drums 44 times and spliced them together and that's the track of 'Mony Mony'."  James adds: "We pasted this thing together out of drums here, and a guitar riff here.  It was called sound surgery."  Once they were happy with the results, they sat down to add lyrics.  Some of the lines came easy, like "Shoot 'em down, turn around, come home, honey" and "Don't stop cookin', it feels so good, yeah."  But they knew that they needed a two-syllable female name and they just couldn't find the right one.  "We had most of the words to the song," James explains, "but we still had no title.  And it's just driving us nuts, because we're looking for like a 'Sloopy' or some crazy name – it had to be a two-syllable girl's name that was memorable and silly and kind of stupid sounding."
James took the project home with him and along with Ritchie Cordell, who was producing the track, they continued to brainstorm.  According to James they were, "about ready to throw in the towel" when, "we go out on the terrace, we light up a cigarette, and we look up into the sky.  And the first thing our eyes fall on is the Mutual of New York Insurance Company.  M-O-N-Y.  True story.  With a dollar sign in the middle of the O, and it gave you the time and the temperature.  I had looked at the thing for years, and it was sitting there looking me right in the face.  We saw this at the same time, and we both just started laughing.  We said, 'That's perfect!  What could be more perfect than that?'  Mony, M-O-N-Y, Mutual of New York.  And so we must have laughed for about ten minutes, and that became the title of the song."
When it came time to record the vocals they wanted a party feel so they rounded up a bunch of people to join them in the studio.  "We had our usual studio band," James says, "but we dragged in people off the street, we had secretaries come downstairs.  This was in the 1650 Broadway Building, the basement of 1650 was a big music industry building.  All the writers and publishers were there, so we invited them all downstairs, and it was really a party that got captured on tape."
For James, "Mony Mony" was a temporary foray into "party rock."  View the music video here
(Reprinted and edited with permission from Michael Walter author of "On This Date In Music").  For further insight on "Mony Mony," Billy Idol's cover of it, and other dates in music history, get Michael's book at OnThisDateInMusic.com. #OnThisDateInMusic #MichaelWalter