On This Date In Music – Simon & Garfunkel's "Mrs. Robinson"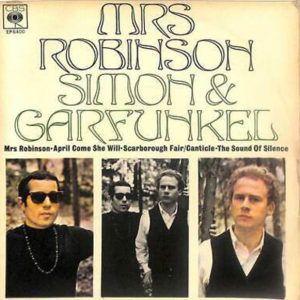 June 8 – On this date in 1968, Simon & Garfunkel's "Mrs. Robinson" began its second week at the top of the pop chart.  The song had arrived on June 1st, replacing "Tighten Up" by Archie Bell & the Drells and it would have a three week run before giving way to "This Guy's in Love with You" by Herb Alpert.  For the duo from Queens, New York, it was their most successful single to date and they have a young up-and-coming movie director to thank for helping them create the song.
Simon & Garfunkel had burst onto the folk rock scene when their debut single, "The Sound of Silence," climbed to the top the charts in early 1966. Over the next few years they delivered consistent hits like "Homeward Bound," "I Am a Rock," and their remake of the traditional English ballad "Scarborough Fair."  Among Simon & Garfunkel's fan base was a young director named Mike Nichols, who made his 1966 directorial debut with Who's Afraid of Virginia Woolf? and was quickly dubbed the "new Orson Welles."  His next film was the coming-of-age comedy The Graduate, which he began working on in early 1967.  As editing got underway, Nichols used some of his favorite Simon & Garfunkel songs as place holders for certain scenes before he could find songs he'd actually use.  But soon Nichols became, in his words, "obsessed by the band" and he thought their music would be perfect for his film.
Paul Simon was apprehensive at first, viewing it as something of a "sell-out," but after meeting with Nichols and reading the script, he agreed to allow the existing songs to be used.  Nichols, figuring he had nothing to lose by asking, requested some new songs from the duo.  A few weeks later, after Paul Simon presented Nichols with some new songs that the director didn't think fit his film, Art Garfunkel mentioned a song called "Mrs. Roosevelt" that Simon had been working on.  The song was a lament to the passing of the "good old days" of America with a title character that may or may not have been Eleanor Roosevelt.  When the duo played the song for Nichols, he loved it and pointed out that the main female character in his movie was named Mrs. Robinson. Simon reworked that line to make it fit with the movie and Nichols used bits of the song throughout his film.  It wasn't until a month after the movie was released that Simon completed the lyrics and he and Garfunkel recorded the full song.  The single came out in April of 1968 and hit #1 two months later, becoming the duo's second chart-topper.
The Graduate proved to be the perfect promotional vehicle for Simon & Garfunkel's music and they found an even bigger fan base with the movie's success.  Since the beginning of his writing career, Simon had explored themes of alienation and disenfranchisement.  Although Benjamin Braddock, Dustin Hoffman's lost and lonely character in The Graduate, wasn't written with Simon & Garfunkel as an inspiration, it turned out so many of their existing songs fit his struggle perfectly.  But none more so than the new song "Mrs. Robinson" the duo contributed to the movie.  Simon had begun writing a song about lost innocence and the yearning for past heroes.  He finished by creating a masterpiece for the film as well as one of the most successful songs of Simon & Garfunkel's illustrious career.
View a video of Simon & Garfunkel performing "Mrs. Robinson" (from The Concert in Central Park)
(Reprinted and edited with permission from Michael Walter author of "On This Date In Music").  For further insight into "Mrs. Robinson" lyrics and other dates in music history, get Michael's book at OnThisDateInMusic.com. #OnThisDateInMusic #MichaelWalter