On This Date In Music – "Hot in Here" by Nelly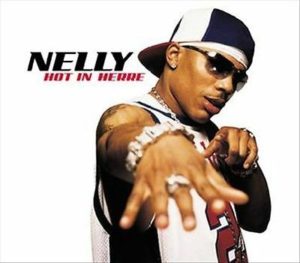 July 6 – On this date in 2002, Nelly's "Hot in Herre" was in the middle of a seven week run atop the pop chart.  It not only served as Nelly's first #1, but it also became the first chart-topping single for the song's producers, Pharrell Williams and Chad Hugo, who called themselves the Neptunes.
Cornell Iral Haynes Jr. was born in 1974 in Austin, Texas, but he moved with his mother to St. Louis when he was still a young kid.  And that's an important part of Nelly's history.  He's from St. Louis.  He's proud of it.  And he wants you to know that.
While he was still in high school, Nelly formed a hip hop group called St. Lunatics (get it?) and though they had some local success, they failed to land a major record label deal, so Nelly started making solo demos and was signed by Universal Music Group.  In the late 90s, the hip hop world still centered around the East Coast–West Coast feud, so Universal used Nelly's Midwest upbringing as his hook.  Indeed, Nelly's rap style is unique because of his twang and drawl; a fact he promoted by naming his debut album Country Grammar.  That debut was released in June of 2002 and produced three Top 20 singles, the title track which climbed to #7, "E.I." which peaked at #16, and "Ride wit It" which made it all the way to #3.  On the title track of Country Grammar Nelly rapped, "I'm from the Lou and I'm proud" and indeed the city embraced him as well.
As Nelly started working on his follow-up album, he reached out to Williams and Hugo and they decided to work together on a track.  The Neptunes have become known for their incredible beats and "Hot in Here" is an early example of this.
"Hot in Herre" became the lead single for Nelly's second album, Nellyville.  Dropped in April of 2002, two months before the album's release, "Hot in Herre" enjoyed a seven week stay at the top of the charts, eventually being replaced by Nellyville's second single "Dilemma."  That song, which featured vocals from Destiny's Child's Kelly Rowland, enjoyed an identical seven week stay at #1 on the Billboard Hot 100 chart.  The summer of 2002 was the Summer of Nelly.
"Hot in Herre" begins with two quick samples (Neil Young's "There's a World" and Nancy Sinatra's "As Tears Go By") before settling into a groove sampled and looped from Chuck Brown's 1979 single "Bustin; Loose."  Nelly also repeats the line, "I feel like bustin' loose," from that same song paying obvious respect to the original.  The extra "r" in the title of "Hot in Herre" is yet another homage to St. Louis and the thick accent used "thurr."
Though Nelly has never been able to match his 2002 success, he has enjoyed a long and rich career both in movies and in television.  His catch phrase has long been, "Don't forget where you came from" and based on his numerous philanthropic endeavors in and around St. Louis, he clearly never has.
To watch the video click here
(Reprinted and edited with permission from Michael Walter author of "On This Date In Music").  For more insight about "Hot in Herre," the Neptunes, and other dates in music history, get Michael's book at OnThisDateInMusic.com. #OnThisDateInMusic #MichaelWalter