On This Date In Music – "Tutti Frutti" by Little Richard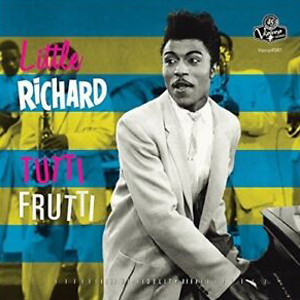 September 14 – On this date in 1955, Little Richard was working in New Orleans trying to capture his raw and energetic live sound in a studio.  He and producer Robert "Bumps" Blackwell, frustrated at their lack of progress, went to a bar, where Richard, in an attempt to blow off steam, began banging on the bar's piano and singing a song that he had written and would often play live, but was so racy he hadn't tried to record it that day.  Blackwell was immediately impressed and the two headed back to the studio to try to capture that sound.  The song they produced that afternoon is one of the most groundbreaking recordings of all time.
Richard Wayne Penniman was born in 1932 in Macon, Georgia.  His father was a deacon and the young boy was playing piano and singing in his dad's church at an early age.  He was a diminutive child who earned the nickname "Lil' Richard."  As he matured, so did his musical tastes and eventually he began singing R&B (although he wouldn't tell his father right away because he called it "the devil's music").  Richard had some success but not enough to support himself.  To make ends meet he worked as a dishwasher, which is where he would write many songs in his head while mindlessly scrubbing dirty plates.  He would also scream out of frustration as dishes piled up; but instead of cursing, he would yell, "Awap bop a lup bop a wop bam boom."
One song he wrote over that sink was a raunchy rocker called "Tutti Frutti" which featured lyrics like, "Tutti fruity, good booty," and, "If it don't fit, don't force it.  You can grease it, make it easy."  That's the song he played in the Dew Drop Inn on this date in 1955, venting at his lack of progress as his studio time was slipping away.  And that's the sound that Blackwell instantly recognized they had to capture.
When the two returned to the studio, they handed local songwriter Dorothy LaBostrie the song to clean up.  LaBostrie replaced the song's racier lyrics with things like "aw rotty" (slang for alright) and left some lines open to interpretation like the one about the gal named Sue (who knows just what to do).  When LaBostrie was finished rewriting the lyrics they had precious little studio time left and so the version that was released was Little Richard's third (and final) attempt.  Blackwell also encouraged him to start and finish with his now signature, "Awap bop a lup bop a wop bam boom."  They were so tight for time that session piano player Huey Smith didn't have time to learn the song so Little Richard played and sang; Earl Palmer, who was the in-studio drummer just followed Richard's right hand on the piano to keep the beat; and Lee Allen only knew to come in with his sax solo when Richard let out his high pitched scream.  The final product is an impassioned song that jumps out of the speakers with an urgency and spontaneity rarely heard before or since.
"Tutti Fruitt" was released two months later towards the end of 1955, just as this nascent music called rock and roll was starting to edge its way onto the radio and into the record stores.  Richard, with his rock and roll infused R&B, was at the forefront, whooping and hollering and ushering in a new sound with outrageous energy!  To watch the video click here
(Reprinted and edited with permission from Michael Walter author of "On This Date In Music").  For further insight on Little Richard, the influence his music had on Rock and Roll including future artists like David Bowie, and other dates in music history, get Michael's book at OnThisDateInMusic.com. #OnThisDateInMusic #MichaelWalter