On This Date In Music – Macarena by Los Del Rio (Bayside Boys remix)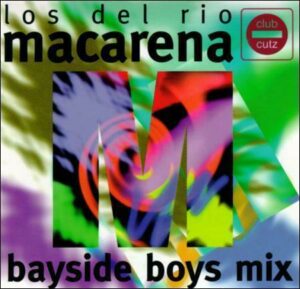 November 2 – On this date in 1996, the Bayside Boys' remix of "Macarena" (a song by the Spanish Duo of Los Del Rio) began its 14th and final week at the top of the pop chart.  The song, and its associated dance, had become a pop culture phenomenon earlier in the year.  But by the time it slipped from the top, Macarena-push-back was well underway.  Pretty soon "Macarena" was considered unplayable in most clubs and at most parties due to its ubiquitous over-playing.
Antonio Romero Monge and Rafael Ruiz Perdigones began playing together as Los Del Rio (translation:  those from the river) in the early 60s in their hometown of Dos Hermanas, Spain, which is indeed by a river.  The first three decades of their career were uneventful until one fateful day when they were booked to entertain at a party for one of Venezuela's richest men, Gustavo Cisneros.  While Los Del Rio performed, a beautiful flamenco dancer also got up to perform.  Monge was so taken by her beauty that he improvised the lyric:  "Dale a tu cuerpo alegria, Magdalena, que tu cuerpo e' pa' darle alegria y cosa Buena" (translation:  "give your body some joy, Magdalene, 'cause your body is for giving joy and good things too").  In Spain, calling a woman Magdalena is to associate her with Mary Magdalene which implies she is sexy and sensuous.
The two liked what Monge had improvised and created a song using that as its opening lines.  They recorded a few different versions of "Macarena," one of which became fairly popular in Puerto Rico when then-governor Pedro Rosselló used it as his unofficial campaign anthem when seeking re-election.  Because Puerto Rico is a popular spot for cruise ships, many vacationers heard the song and began asking for it when they returned home.
Which is how it appeared on the radar of Miami radio and club DJ "Jammin' Johnny" Caride, who was getting asked for it regularly by club-goers.  Caride sought it out (before you could just download a track onto your phone) and heard potential in it.  He brought it to his partners at Bayside Records and the trio added English lyrics and gave it a more traditional American dance beat.
As the music video was being prepared for the Bayside Boys' version of "Macarena," someone had the ingenious idea that a line dance to go with the song might give it a hook.  Mia Frye, a dancer and choreographer was recruited to create something simple and repetitive.  The dance that she created indeed was so easy that everyone could do it.  And before long, everyone was!  Throughout 1996, bars, clubs, weddings, and Mitzvahs all experienced the song and its dance.  In August, the New York Yankees set the world record for Most People Doing the Macarena when more than 50,000 fans performed the dance at their Macarena Night.
"Macarena" sold over 11 million copies.  It was the most successful song of 1996 by a long shot.  But by the end of that year "Macarena" fatigue had set in.  Whether you loved it or hated it, there was no denying its impact.  1996 will always be remembered as the year of the "Macarena."
To watch the video click here:
To hear Los Del Rio's original version and see a sheet that explains the dance steps click here.
(Reprinted and edited with permission from Michael Walter author of "On This Date In Music").  For further commentary on the Macarena and insight on other dates in music history, get Michael's book at OnThisDateInMusic.com. #OnThisDateInMusic #MichaelWalter