Join Us at the Capitol Bridal Show – Sunday Feb. 9, 2020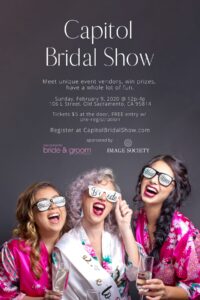 Lolita Vasquez Photography is now Image Society!  To celebrate their rebranding, they've put together a small bridal show on Sunday February 9, 2020 from 12:00-4:00 pm with some of the most unique event vendors in the industry.  JD Productions DJs•MCs•Lighting is proud to be one of those vendors!
It's going to be a laid back great time.  Win some stuff!  Come with your fiancé and/or bride tribe.
Tickets are $5 at the door, but FREE when you pre-register here
LOCATION
Image Society, 106 L Street, Old Sacramento, CA 95814
PARKING
The entrance to the show is the big blue door to the left of Candy Heaven, in the Historic Stanford Brothers Warehouse. Go through the blue door, down the stairs, and to the RIGHT.
There is metered parking on the street, you can pay either by card on the meter or by the ParkMobile app – https://parkmobile.io/ There's also Tower Bridge Parking Garage across the street from my building, 1289 Front St, Sacramento, CA 95814. Street parking is about $1.75 for 1 hour.